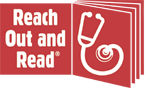 Washington Pediatric Associates is always seeking to help enrich the lives of our pediatric patients and their families. To achieve this goal, our office participates in the Reach Out and Read program.

The Reach Out and Read program seeks to make early literacy a standard part of pediatric primary care. This program builds on the special relationship between doctors and the parents of young children to support children's language and literacy development. Reach Out and Read reinforces the parent's role as the first and most important teacher, and gives parents the tools and techniques to help their children succeed.

The Washington Pediatric Associates' staff has been trained in this special pediatric literacy program. At every well-child visit, every child between the ages of six months and six years will receive a new, developmentally appropriate children's book to take home.




Become a Volunteer!
Reach Out and Read is always seeking volunteers to support school readiness and strengthen the program. Click here find out more and get involved!