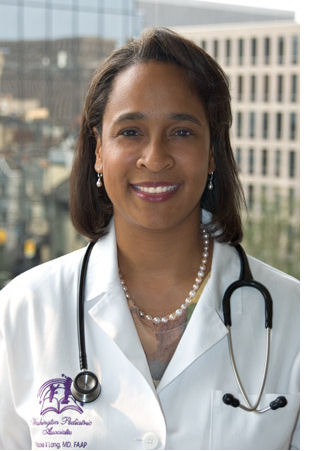 Dr. Nicole V. Lang is a board certified pediatrician with over 26 years experience in caring for children in the Washington metropolitan area. She is the Founder, President and CEO of both Washington Pediatric Associates and the specialized extension of her practice called, Premier Pediatric Concierge Care. The Concierge Service provides an even more personalized convenient and comprehensive approach to health, education and wellness.
She is recognized locally as one of Washington DC's Top Pediatric Doctors according to Washingtonian, Washingtonian Mom, Washington Parentand the Washington Post. She also serves as a National Trainer for Dr. T. Berry Brazelton's Touchpoints Approach to pediatric medicine. She has been the recipient of numerous awards, including the AAMC Humanism in Medicine Award and the Dr MLK, Jr Medal for Outstanding Service in Human Rights.
Dr. Lang is a former Assistant Dean of Student and Curricular Affairs at the George Washington University School of Medicine (GWUSOM) and currently serves as an Assistant Professor of Pediatric and Adolescent Medicine. She is committed to medical education and teaching the next generation of pediatric healers. To this end, she supervises students from the medical, nurse practitioner and physician assistant programs of GWUSOM.
Dr. Lang graduated from Trinity University where she earned a BS in Biochemistry. She received her medical degree from the George Washington University School of Medicine and completed her pediatric residency at Emory University. She has worked with Indian Health Service on the Crow Native American reservation in Montana. Additionally, in the past, she spearheaded a partnership between GWUSOM, Physicians for Peace and Orotta Medical School in Eritrea, East Africa. Her areas of special interest include advocacy, cultural competency, pediatric literacy and spirituality & medicine.
Dr. Lang has one daughter, two dogs and resides in Washington, DC. She actively volunteers in her community, at her daughter's school, and has served on numerous boards. She enjoys yoga, meditating, traveling and spending quality time with family and friends.